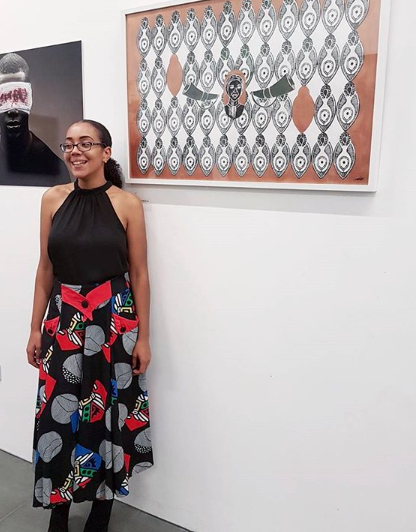 Antonietta Torsiello is an award winning Artist and Printmaker of Jamaican and Italian heritage raised in East London, UK. Mediums she works with include silk screen, lino print, acrylic, watercolour, drawing ink, oil pastel, lentils, seeds and anything textures she can get her hands on. Her work discusses the complex relationships between texture, nature, cultural traditions and her own personal experiences. Growing up in a cultural rich area of London with vibrant African and Asian communities, Antonietta developed an appreciation of textiles and a melting pot of cultures which can be seen in her working style.
Antonietta most recently won First Prize award of £1,000 while exhibiting in the 'I am a woman and this is my legacy' exhibition at Laura I. Gallery in 2018 with her piece titled: Time. Previously she won the Oxford House Gallery People's Choice award with her lithograph artwork titled 'Miscommunication' in 2011 and for the development of her business. Since 2010, she has exhibited her Art work with galleries, institutions including the OXO Tower, The UK Foreign and Commonwealth Office, The Prince's Trust, University College London, Credit Suisse Bank, KPMG Bank and Transport for London.
While studying Fashion and Textiles at College Antonietta developed a real passion for texture and specifically silk screen printing. Something which she continued to use as a tool for her artistic expression, majoring in printed textiles in her final major project at University. In 2014, Antonietta set up an Art and Homewares business with products developed and designed in her East London studio.
As well as running her own practice, Antonietta is a community artist working on projects with local authorities and community groups. In 2015 she Founded the Forest Gate Arts Trail, to improve community art engagement and make art accessible through local exhibitions and interactive Art workshops in East London, whilst improving links between local schools, businesses and the wider art community.
She is a member of Creative Bloc Arts Collective and Artist's Union England